Meeting Profile
Public companies of all sizes are considered.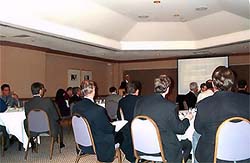 NAS Corporate Focus luncheon meetings take place at private clubs and hotels in the heart of each city's financial district. All arrangements are handled by NAS personnel such as invitations, luncheon planning, audio-visual, and registration. All the company speaker has to do is plan to be at the meeting room about 30 minutes in advance and supply 40 annual and quarterly reports for those in attendance.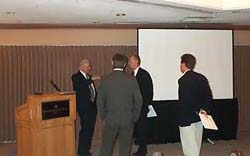 The schedule at each meeting includes a reception and first-class luncheon followed by a 20-30 minute company presentation and 15 minute Q&A period. Talks include such points as details on management ability, quality of earnings, operating performance, strategy, the balance sheet, and future outlook. Following the meeting a list of those in attendance will be provided so the speaker can keep them up-to-date with future reports.
Sample Meeting - San Francisco
SAMPLE MEETING
SAN FRANCISCO
1:00 P.M. LUNCHEON MEETING


Meeting:
XYZ CORPORATION
Date:
To be determined
Location:
BANKERS CLUB (415) 433-7500
555 California Street, 52nd Floor
San Francisco, CA 94104
Room:
Pacific
12:30 pm
Speaker Arrives
1:00 pm
Luncheon starts
1:20 pm
Speaker is introduced for presentation
1:50 pm
Question & Answer period
2:10 pm
to 2:25 pm
Informal question & answer period, if needed.
* Note: Our NAS representative will be there early to make sure everything is set up properly. If you are doing an audio visual presentation, we recommend you arrive by 12:30 to set up.

Scheduling
All dates and arrangements are scheduled through the San Diego headquarters. Simply pick the dates and cities you wish to reach with your company story and a program can be tailored to fit your plans.
Contact
Bradford K. Parker, Chairman
NATIONAL ASSOCIATION OF STOCKBROKERS
12707 High Bluff Drive, Suite 200
San Diego, CA 92130
Phone: (858) 455-7422
Toll Free: (800) 222-8627
Fax: (858) 350-2004
E-mail: info@nastockbrokers.com Click here to request scheduling and contact information.